Ryan Smith
"20 percent of our employees have been with the company for less than 90 days." Ryan Smith
At the Recent NeuroLeadership Summit in Washington, DC, " Ryan Smith (Qualtrics) participated in a session with Tony Bingham (CEO, ASTD), Giselle Martin-Kniep (President, Communities for Learning), David Rock (Director, NeuroLeadership Institute), and Josh Davis Ph.D. (Barnard College), for a fascinating conversation focused on Designing Learning. Specifically:
What are we learning from neuroscience about designing leadership development initiatives?
In the conversation on-stage, Ryan provided the "real-world" example. In this Leadership Channel interview with Peter Clayton, Producer/Host of TotalPicture Radio, Ryan describes the culture of "radical transparency" at his company, why it's "okay to fail" and the unique way all of the employees stay connected - and measure their progress. (How many CEO's do you know who post their expense reports online for all employees to see?)
Watch the video now...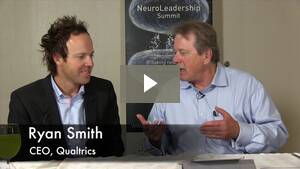 If you've not heard about Qualtrics you soon will: Ryan and his father, Scott Smith, bootstrapped their data-collection and -analytics company, from the family's basement to more than $48 million in sales last year. As CEO, he has led the company to the industry leader in online data collection and survey analytics. Qualtrics is one of the fastest-growing technology companies, experiencing triple-digit growth in the past four years. The company has more than 5,000 customers including 500 universities, BusinessWeek's top 30 business schools and almost all of the Fortune 500.
In 2012, Qualtrics received a $70 million investment for Accel Partners and Sequoia Capital, the largest-ever joint investment by these two firms.
Ryan is a frequent lecturer at the nation's leading business schools and is a member of the advisory board for the Masters in Market Research (MSMR) Program at the University of Texas at Arlington. He also serves on the executive advisory board of the Huntsman Cancer Institute. Before Qualtrics, he worked at HP and Ford Motor Company and studied at the Marriott School of Management.
Listen and download this podcast at:
https://www.totalpicture.com/career-podcast-interview-channels/career-leadership-interviews/1427-ryan-smith-leading-a-hyper-growth-company.html