Matthew Lieberman
"If Facebook were a religion, it would be the third largest religion in the world."
Facebook and Twitter might seem to some like a waste of time, but they actually serve a basic human need. Our social lives at work really effect the bottom line. At the NeuroLeadership Summit in Washington, DC, Matthew Lieberman, a professor of psychology in the UCLA College of Letters and Science and a professor of psychiatry and biobehavioral science at UCLA's Semel Institute for Neuroscience and Human Behavior, took the stage with Robin LaChapelle, Vice President of Total Rewards and Performance Management for Lockeed Martin, to discuss research that shows that the need to connect socially with others is as basic as our need for food, water and shelter... and what "social" means for corporations and workforce management.
Watch the video now: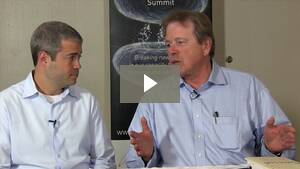 In his new book, Social: Why Our Brains Are Wired to Connect, (Crown Publishers) Lieberman argues that our need to reach out to and connect with others is a primary driver behind our behavior. We believe that pain and pleasure alone guide our actions. Yet, new research using fMRI - including a great deal of original research conducted by Lieberman and his UCLA lab -- shows that our brains react to social pain and pleasure in much the same way as they do to physical pain and pleasure.
Be sure to watch for our exclusive interview with Robin LaChapelle, coming soon to TotalPicture Radio.
About
Peter Clayton
Peter Clayton, Producer/Host, is an award-winning producer/director of radio, television, documentary, video, interactive and Web-based media who has created breakthrough media for a wide array of Fortune 100 clients.
Discussion