Anje Dodson
Speed as a Competitive Advantage
How does technology - Big Data in particular - help identify and develop better leaders? How does speed help enhance our decision making process? What technologies are being used by leading organizations to identify workforce management trends and opportunities?
These were some of the topics discussed in the Technology Solutions panel at the NeuroLeadership Summit in Washington, DC. Joining Anje Dodson from Oracle Corporation were Tony Stubblebine, Lift; Ann Herrman-Nehdi, Herrman International; Alvaro Fernandez, SharpBrains; and Dan Radecki, Allergan, NLI.
In this interview with Peter Clayton, Producer/Host of TotalPicture Radio, Anje Dodson explores how neuroscience can help in a large global organization like Oracle, develop better leaders and drive performance through understanding the basic biological drivers of learning.
Watch the Video Now...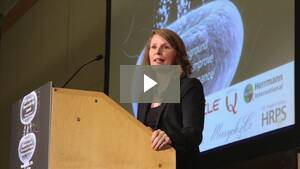 During her tenure at Oracle, Dodson has helped transform the talent and organizational effectiveness function to meet the needs of the rapidly growing global workforce of 120,000 employees in almost 70 countries. Leveraging a deep knowledge of the business, a strong talent vision and Oracle's technology assets, she has created programs and measurements that produce industry leading results in productivity, capability and organizational effectiveness. Her team's mission includes providing more meaningful intelligence to help the business make better workforce decisions and accelerate execution on its strategy.
Dodson oversees initiatives that drive targeted learning solutions for Oracle employees and leaders, including the Oracle Women's Leadership Initiative which aims at creating opportunities that support, educate and empower Oracle's current and future generations of women leaders.
About
Peter Clayton
Peter Clayton, Producer/Host, is an award-winning producer/director of radio, television, documentary, video, interactive and Web-based media who has created breakthrough media for a wide array of Fortune 100 clients.
Discussion