Jessiva Payne
Leaders are under ever-increasing pressure to make harder decision in less time, under more stress, and with less sleep. Given this is a recipe for poor cognitive performance, effective leadership at any level requres developing cognitive stamina - the ability to get the most from your brain.
In this exclusive interview with Peter Clayton, recorded at the NeuroLeadership Summit, Jessica Payne, Ph.D, one of the world's leading researchers around sleep, stress and memory, explores the foundations of developing cognitive stamina, drawing on a wide range of research as Director of the Sleep, Stress and Memory Lab, University of Notre Dame.
Watch the Video Now!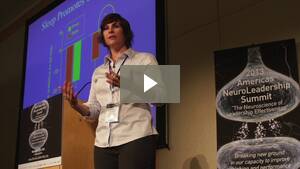 Jessica Payne's research focuses on how sleep impacts memory, creativity and the ability to process new ideas - in particular, how new information is processed and transformed by a process known as consolidation, which solidifies memories. Dr. Payne uses two powerful tools to probe memory - sleep and stress. Both provide important mediums for targeting the consolidation process in humans. Dr. Payne combines behavioral, pharmacological and cognitive neuroscientific (EEG, MRI) approaches to investigate these questions. Another line of research examines how disturbances in sleep and stress influence memory consolidation in people with major depressive disorder and anxiety disorders such as post traumatic stress disorder, and how this, in turn, influences psychological functioning.
About
Peter Clayton
Peter Clayton, Producer/Host, is an award-winning producer/director of radio, television, documentary, video, interactive and Web-based media who has created breakthrough media for a wide array of Fortune 100 clients.
Discussion