Kevin W. Grossman
The game-changing trends currently impacting corporate recruiting: LinkedIn, mobile, and Big Data.
Kevin W. Grossman, Director of Product and Content Marketing at Peoplefluent, and co-host of the popular #TChat radio show and weekly Tweet Chat, discusses research sponsored by Peoplefluent, just conducted by Recruiting Trends - a leading resource for the employee recruitment industry.The research confirms that LinkedIn, mobile, and Big Data are being leveraged for talent acquisition, but not as expected. Yesterday's game has already changed.
Kevin was interviewed at the Recruiting Trends Conference in Las Vegas by Peter Clayton, producer/host of TotalPicture Radio.
Watch the video now...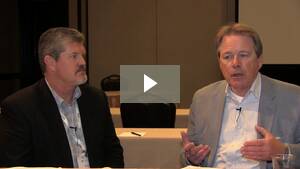 About
Peter Clayton
Peter Clayton, Producer/Host, is an award-winning producer/director of radio, television, documentary, video, interactive and Web-based media who has created breakthrough media for a wide array of Fortune 100 clients.
Discussion